As a Top reliable modified starch supplier in Vietnam. We supply high quality of acetylated starch E1420 as food additive with competitive price.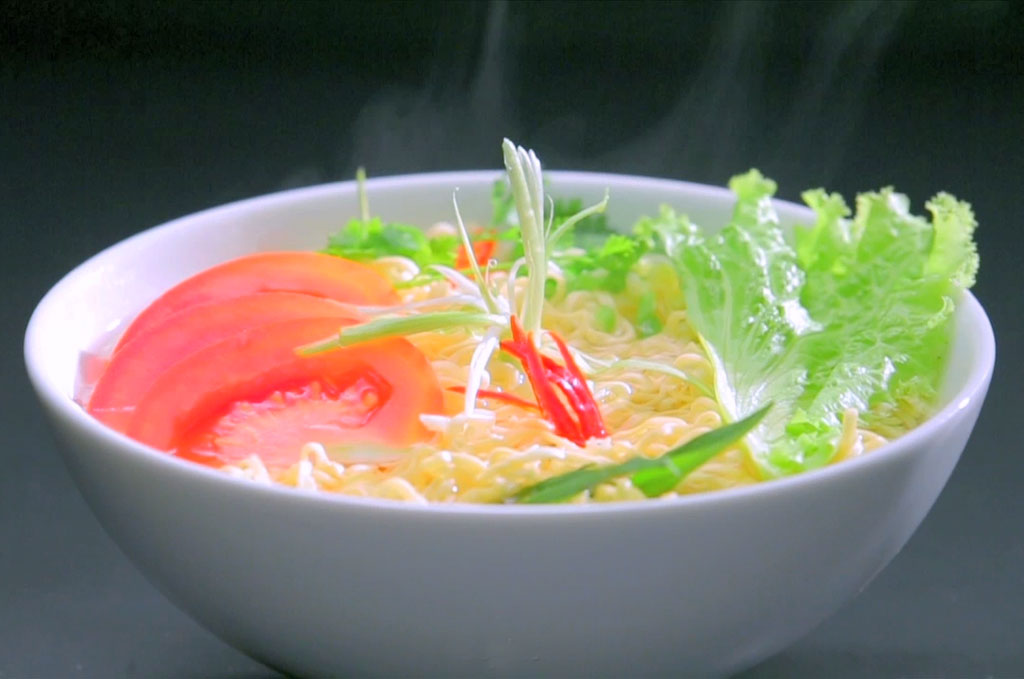 E1420 Acetylated Starch
Trade name: Modified Tapioca Starch, Modified Starch.
Chemical name: Acetylated Starch, Starch Acetate.
E Number: E1420
CAS No.: 9045-28-7
H/S code: 3505.10.90
Quality certificates: HACCP, Kosher, Halal (HCA), HALAL (MUI), ISO 9001, FSSC 22000, etc.
Packaging: 25 kg, 500kg, 800kg and 1000kg bag;
Origin: Vietnam.
E1420 Properties and Applications
Properties:
Better clarity, lower gelatinization point;
Improved low temperature stability and water holding capacity;
Texturing agents.
Applications: Instant noodles, frozen foods, ham, sausage, fish ball, dumpling, etc.
Dosage: 5-20%.
Specification of Acetylated Starch E1420
We supply acetylated modified starch E1420 product with below specifications. If you have any other inquiries, please feel free to contact us.
E1420 Product Code: AS11, AS12, AS13 and AS14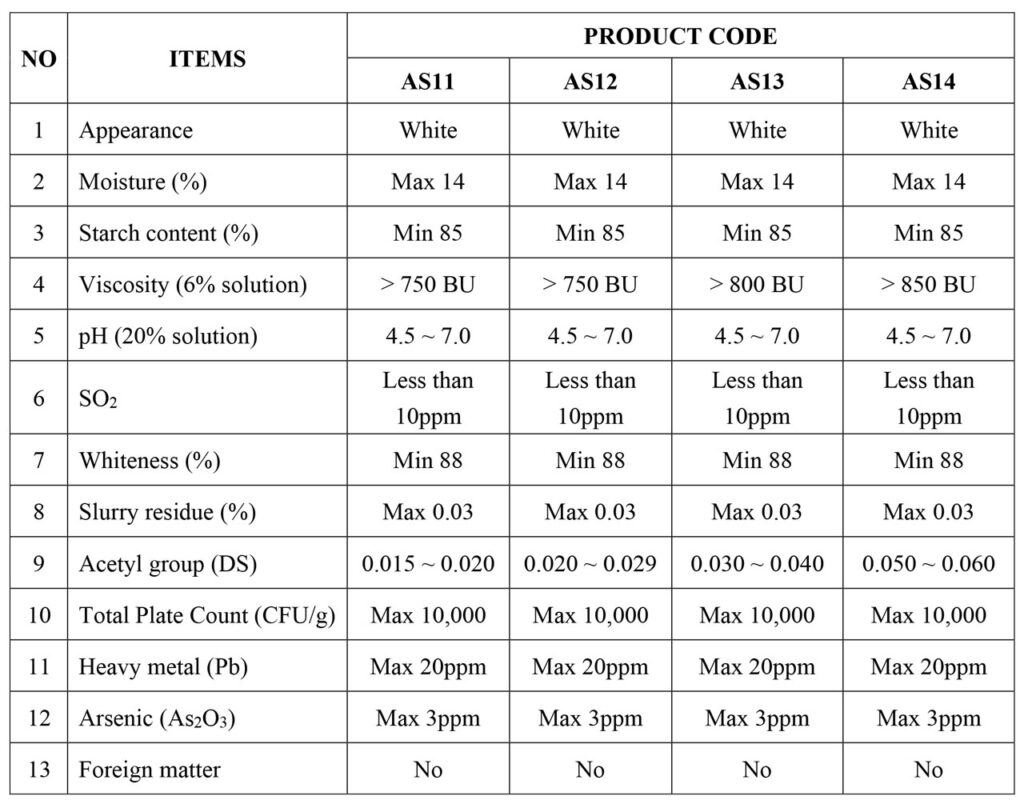 E1420 Product Code: AS11A, AS12A, AS13A and AS14A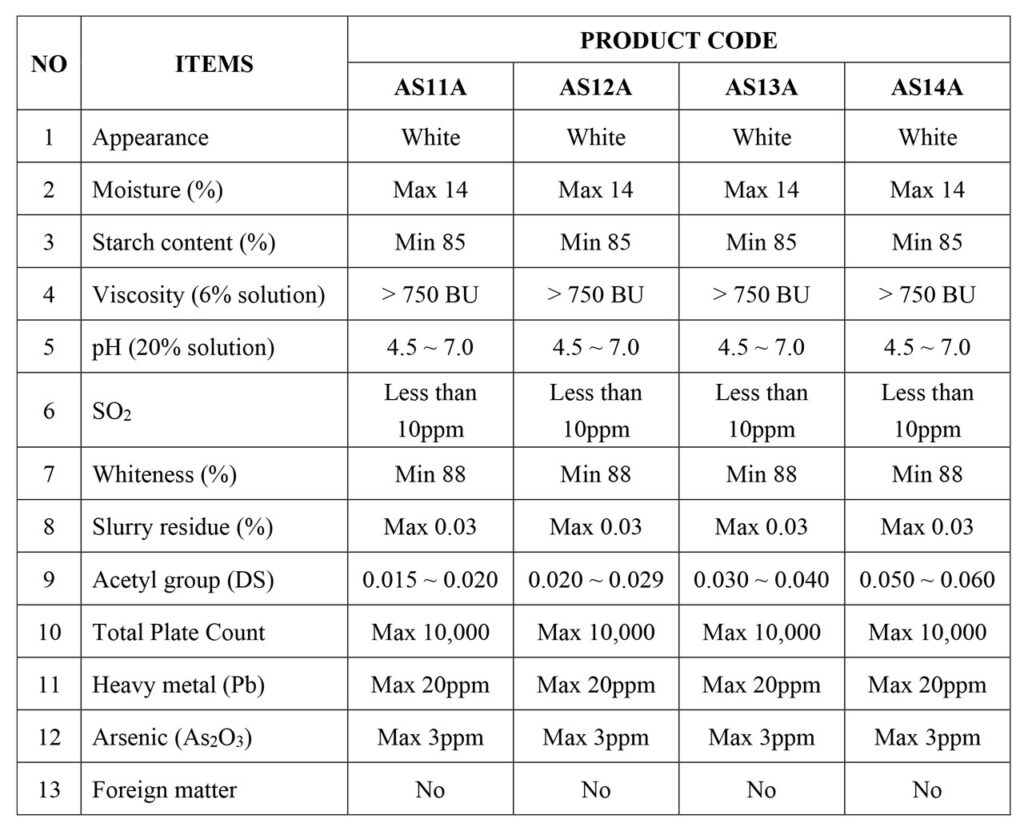 E1420 Product Code: AS15, AS50, AS15A and AS50A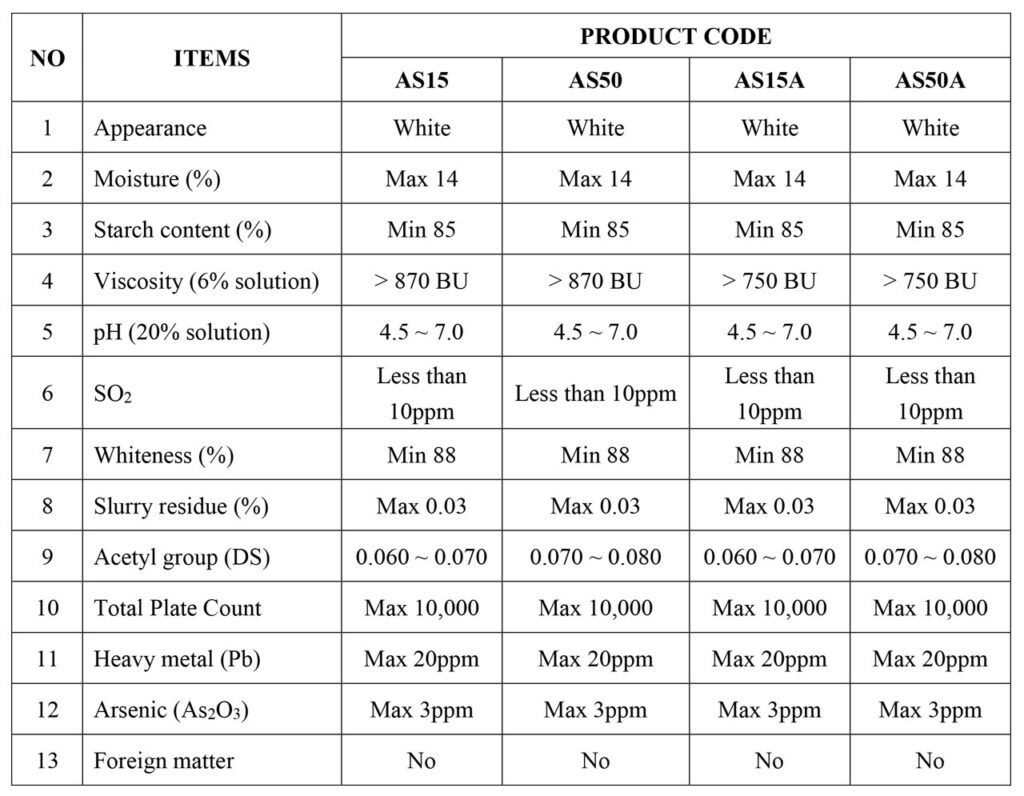 Modified Starch Q/A
1. What is MOQ (minimum order quantity) of Acetylated Starch?
MOQ is 10,000kgs per shipment.
2. What's your delivery time for Acetylated Tapioca Starch E1420?
Shipment time is around 10-15 days after confirmed order and payment.
3. What are the payment terms of Acetylated Starch?
We accept T/T or L/C.
4. What is H/S code of Modified Starch E1420?
HS code is 3505.10.90
5. Where is port of loading?
Cat Lai Port, Ho Chi Minh City, Vietnam.
6. What documents can you provide for E1420 Acetylated Starch?
Normally, we provide including: packing list, COA, Commercial invoice, bill of loading, health certificate and certificate of origin.