Vietnamese glutinous rice flour export product is made from long grain white rice. It is commonly used in countries where rice is the staple food to make other food products.
Application of Vietnamese glutinous rice flour product in food.
Glutinous rice flour in Vietnam (also called Bột Gạo Nếp) is a common substitute for wheat flour. It is also used as a thickening agent in recipes that are refrigerated or frozen since it inhibits liquid separation. Its application such in food industry such as:
Rice noodles
Egg-roll wrappers and edible rice paper
Rice-flour cakes and dumplings
Sweet and desserts
Batters and breading
Soup and sauce, thickening agent
Bread & Cake
Etc.
Properties of Vietnam glutinous rice flour product.
Fine powder
Pleasant taste
Non-GMO and organic available.
Specification of Vietnam glutinous rice flour product for export.
Moisture: 13% Max
Whiteness: 95% Min
Viscosity: 400 Min BU
Particle size (<180 um): 90% Min
pH (10% Solution): 5.0 – 7.0
Ash content: 0.5% Max
Protein content: 5.0% Max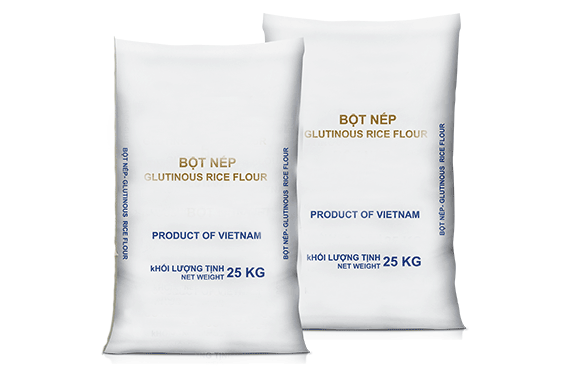 25 kg PP bag with inner PE bag or paper bag.
Shelf life: 12 months from production date.
Are you looking for glutinous rice flour product?
If you are looking for Vietnam export product such rice flour, glutinous rice flour. Please feel free to contact us to get the top selected quality food grade manufactured and supplier of stable competitive in Vietnam.